Cantabile - The London Quartet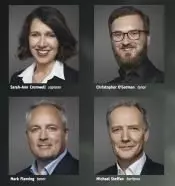 Sarah-Ann Cromwell - Soprano
Christopher O'Gorman - Tenor
Mark Fleming - Tenor
Michael Steffan - Baritone
The London Quartet has long been recognised to be one of Britain's great vocal groups. Founded in Cambridge as a purely a cappella student group, they first came to prominence in the Tim Rice musical Blondel in London's West End. Since then, the group has pursued a policy of constant and dynamic renewal, pushing back musical frontiers, exploring ever-new territories and attracting a substantial following right across the musical spectrum, both in Europe and further afield.
The London Quartet has appeared in a huge variety of venues, singing programmes encompassing early polyphony through to jazz and contemporary music. They have toured extensively—from the United States to South Africa to Southeast Asia and the Far East. They have sung in the most prestigious venues for the most prestigious clientèle, including Buckingham Palace for Her Majesty the Queen.
The London Quartet's schedule over recent years bears witness to the extraordinary variety of their activities. They have toured Canada repeatedly, from Niagara Falls to Prince Rupert near Alaska; they gave a concert for five thousand people on the beach at the Torrent de Pareis in Majorca; at the other end of the scale they have been in demand at intimate exclusive private events, including two for top Formula 1™ teams. They sang in the presence of the Queen of the Netherlands and appeared on a bill at an exclusive private event in England with the legendary Diana Ross. Following a run at Offenbach's theatre in Paris, the celebrated Bouffes Parisiens, their tour in France and Belgium of their all French-language show was sold out. They are the first Artists in Residence at the Bridewell Theatre in London, where they have presented several shows.
The London Quartet's CD, Songs of Cricket, on which their guests include Rory Bremner, Sir Richard Stilgoe and Sir Tim Rice, was enthusiastically received; their next album, Songs of Love and War, on which they are accompanied by the renowned classical pianist, Malcolm Martineau, was released in 2014, and has been nominated for the 2015 Contemporary A Cappella Recording Award (CARA) in the Best Classical Album category.