David Rees-Williams Trio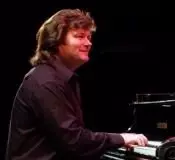 The David Rees-Williams Trio was formed in 1988 and features David Rees-Williams (piano), Neil Francis (bass guitar) and Phil Laslett (drums). Based in Canterbury, they have performed in an interesting variety of concerts and festivals over the years both in England and Spain, and now specialise in a programme that unites the best of classical and jazz. David's arrangement of Purcell's When I Am Laid In Earth from their CD Classically Minded was first played on Radio 3 during the summer of 2001 on Sean Rafferty's programme In Tune. The response was extraordinary, resulting in the BBC being inundated with enquiries, and subsequently inviting them to record a commercial disc on their new Late Junction label.
Hidden Colours, released in May 2002, features arrangements of Purcell, Bach, Grieg, Fauré,Franck, Debussy and Ravel. It received excellent reviews in The Times and the Independent on Sunday and shortly after its release, was Editor's Choice in HMV Choice Magazine. It was then to become No.2 of HMV's 10 best Classical discs of 2002. It was also rated best of its genre by the Financial Times in its end of year disc review on world music of 2002.
In September 2004, Time Scape was released and includes arrangements of works by Ravel, Bach, Chopin, Stanford, Purcell, Buxtehude, Elgar, Warlock and Bossi. It received 4-star reviews in The Sunday Times, The Independent On Sunday and Jazzwise Magazine. It was also featured as one of the top ten CDs of 2004 by Clive Davis in the Sunday Times Culture magazine in December 2004.
The Trio's latest CD Thinking Allowed was released in February 2007. Featuring regularly on BBC Radio 3 and Classic FM's new station, theJazz, it has been widely and unanimously acclaimed as one of the outstanding albums of its genre.
David Rees-Williams (piano) began his musical career as a chorister at New College Oxford, where the rich variety of musical styles performed by choir and organ made strong and lasting impressions. From here he won the top music scholarship to Cranleigh School where he studied piano, oboe and organ. He graduated from the Royal College of Music in 1981 with a B.Mus. While still a student, he held posts as organist at two London churches. Apart from his concert work with the trio, and as a soloist on piano and organ, he teaches piano in Canterbury, both privately, and at The King's School, and Christ Church University College.
Until 2002, Neil Francis (electric bass) enjoyed a dual career as teacher and freelance bass guitarist. He now devotes his time entirely to his playing. His performance work has embraced disciplines as diverse as improvised trio jazz, blues, rock, studio sessions, and, most recently, the classically inspired cross-over style featured by the David Rees-Williams Trio.
Over the last three decades, Phil Laslett (drums) has built a solid reputation as a versatile player backing a variety of international artists in his own right, and also as part of the David Rees-Williams Trio. He has also led his own quartet specialising in modern jazz arrangements. Recent reviews of the Trio have complimented his playing for its subtlety and musicianship.
---
The David Rees-Williams Trio have just got better and better .... their new recording of jazz forays into the classical repertoire is just magical.'
- Guy Dammann, The Guardian
"Rees-Williams can cast a Bach prelude in exotic colours, but he and his colleagues are equally at home with Scarlatti, Grieg and Cesar Franck."
- Clive Davis, Sunday Times