Dimension Trio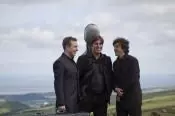 Winners of the 2005 Parkhouse International Chamber Music Competition and the 2004 South East Music Schemes, DIMENSION is a unique violin, cello and piano trio of young musicians whose aim is to perform repertoire which is not restricted solely to the piano trio medium. In addition to presenting solos, duos and trios, DIMENSION collaborates with other musicians, often becoming a quartet or a quintet. Guest artists appearing to date include Michael Collins, Tasmin Little, Gervase de Peyer, Julian Rachlin, Rachel Roberts, Radovan Vlatkovich and members of the Belcea and Alban Berg String Quartets.
DIMENSION performed the Beethoven Triple Concerto with the London Philharmonic Orchestra and with the Royal Philharmonic Orchestra in the Cadogan Hall in London. They also performed this piece with Orquesta Odissea in Madrid's Teatro Monumental, Armenian National Opera Orchestra in Yerevan as well as withthe Wroclaw and Lodz Philharmonic Orchestras in Poland conducted by Daniel Raiskin and Otis Kleiber respectively.Other highlights have included performances on Spanish National Television and critically acclaimedappearances at the Kastav International Festival in Croatia, Bastad and Helsingborg Festivals in Sweden, Lancut Festival and the Warsaw Beethoven Festival in Poland, as well as at the Wigmore Hall, St. John's Smiths Square and the Purcell Room as a result of winning the Parkhouse Award and Audience Prize.
The trio has also performed alongside Tasmin Little as part of her Dream Hunter's Festival in Leeds, and at the Royal Northern College of Music for the Manchester Chamber Concerts.
In 2006 DIMENSION premiered Richard Hyung-KI Joo's Triology Dimension and in 2003 Malcolm Singer's Piano Trio, the premiere of which was given at the Wigmore Hall and a few days later at St. John's Smith Square as part of the composer's 50thBirthday Concert.
---
"...the Dimension Trio play as one - the level of unanimity both technical and musical is amongst the very finest..."
"The Dimension Trio evoke a tender rapture that is as exquisite as it is rare.."
Nick Barnard, MusicWeb International