Huw Watkins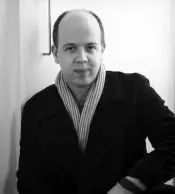 "What an amazing musician Watkins is, this unfailingly dependable and musical pianist who seems to be everywhere. If he caught a cold most of Britain's summer festival season would collapse."
The Telegraph
Huw Watkins was born in Wales in 1976. He studied piano with Peter Lawson at Chetham's School of Music and composition with Robin Holloway, Alexander Goehr and Julian Anderson at Cambridge and the Royal College of Music. In 2001 he was awarded the Constant and Kit Lambert Junior Fellowship at the Royal College of Music, where he now teaches composition.
As a pianist, Huw Watkins is in great demand with orchestras and festivals including the London Sinfonietta, Britten Sinfonia, the BBC orchestras and Aldeburgh and Cheltenham Festivals. Huw has also developed a strong relationship with the Orchestra of the Swan where he is 'Composer in the House' and with whom he has performed regularly over the years. Strongly committed to the performance of new music, Huw has given premieres of works by Alexander Goehr, Peter Maxwell Davies, Michael Zev Gordon and Mark-Anthony Turnage. He recently presented a programme of Hans Werner Henze's piano works at the BBC's Total Immersion day at the Barbican.
A favourite partner for chamber collaborations, Huw Watkins performs regularly with his brother Paul Watkins, as well as Alina Ibragimova, James Gilchrist, Daniel Hope, Nicholas Daniel, Sebastian Manz, Mark Padmore, Carolyn Sampson, and Alexandra Wood. Recently Huw has featured as both Composer in Residence and pianist at festivals including Presteigne and Lars Vogt's 'Spannungen' Festival in Heimbach, Germany.
Huw Watkins is one of Britain's foremost composers. His music has been performed throughout Europe and North America.
Huw's works have been performed and commissioned by the Nash Ensemble, Birmingham Contemporary Music Group, Belcea Quartet, Elias Quartet, BBC National Orchestra of Wales, BBC Symphony Orchestra, London Symphony Orchestra and Cincinnati Chamber Orchestra. Highlights include his acclaimed Violin Concerto premiered at the BBC Proms by Alina Ibragimova and the BBC Symphony Orchestra conducted by Edward Gardner, Piano Concerto premiered by BBC NOW,London Concerto premiered to mark the London Symphony Orchestra's centenary,Double Concertopremiered at the BBC Proms with BBC NOW conducted by Jac van Steen and In My Craft or Sullen Art for tenor and string quartet premiered at the Wigmore Hall by Mark Padmore and the Petersen Quartet.
Huw Watkins is regularly featured on BBC Radio 3, both as a performer and as a composer. His recordings include a disc of Mendelssohn's cello and piano works with his brother Paul Watkins (Chandos), British sonatas for cello and piano with Paul Watkins (Nimbus), Alexander Goehr's piano cycle Symmetry Disorders Reach (Wergo), and Thomas Ad's' song cycle The Lover in Winter with the countertenor Robin Blaze (EMI Classics). Most recently, NMC Records have released a disc dedicated to Huw Watkins' work entitled In my craft of sullen art (NMC). The disc showcases Huw's 'outstanding pianism' (Andrew Clements, The Guardian) and reveals him as "one of the most rounded composer-musicians in the UK" (Andrew Clark, Financial Times).