Florian Uhlig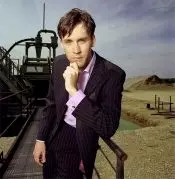 Florian Uhlig's musical personality ranges between introversion and emphasis, his playing is marked by curiosity for all facets of music, passion informs his activities in whatever is related to musical, pianistic expression and is reflected in many different forms. The mental restlessness, the serious curiosity to get to the bottom of things, is Florian Uhlig's essential talent, along with and prior to his effortless virtuosity; his activity and creativity are driven by the desire to trace the interrelations of the individual works with their historic and current reality. His repertoire ranges from the Baroque to the present, but contains a good deal more than merely the well-known "war-horses" of the literature.
Florian Uhlig is active wherever composers formulate something of interest, where the handicraft of playing piano can and must transform itself into feeling and meaning. Thinking and playing according to set patterns does not stand a chance. When putting together recital programs, he permits himself eccentricities, enthusiastically lets himself get carried away, casts the familiar together with the unfamiliar and penetrates to the core of the music with an always reliable sense of style, affording the delight of an ingenious musical discourse.
Florian Uhlig was born in Düsseldorf and gave his first piano recital at the age of twelve. He studied in London with Peter Feuchtwanger and continued his studies at the Royal College of Music and the Royal Academy of Music in London, where he now lives, as well as in Berlin.
Florian Uhlig's orchestra debut was at the Barbican in London in 1997. Since then, his busy concert schedule has taken him to major concert stages in Berlin, Brussels, Caracas, Dresden, Hong Kong, Istanbul, Cape Town, Cologne, London, Luxemburg, Munich, New York, Paris, Prague, Reykjavik, Salzburg, Seoul, Venice, Washington and Vienna. Florian Uhlig has played concerts with orchestras such as the BBC Symphony Orchestra, the Dresden Philharmonic, the Munich Symphony Orchestra, the Radio Symphony Orchestra Saarbrücken, the Stuttgart Philharmonic, the Bavarian Radio Chamber Orchestra, the Stuttgart Chamber Orchestra and the Vienna Chamber Orchestra.
Only recently he made guest appearances with the Iceland Symphony Orchestra and the Simon Bolivar Youth Orchestra of Venezuela performing Krzysztof Penderecki's Piano Concerto conducted by the composer. Invitations to festivals led him to appear at the Beethoven Festival in Bonn, the Chamber Music Festival in Elmau Castle, the Ludwigsburg Castle Festival, the MDR Summer of Music, France Musique Paris, the Schleswig-Holstein Music Festival, the Schwetzingen Festival, the Vienna Festival Weeks and many more.
Along with his work as a soloist, Florian Uhlig is also a sought-after chamber musici an and song pianist. He was the last partner of legendary baritone Hermann Prey and has worked together with Mirijam Contzen, Alban Gerhardt, Franz Hawlata, Roberto Saccà and Ingolf Turban, the Consortium Classicum, the Philharmonia Quartet Berlin, as well as with actors Christoph Bantzer, Cornelia Froboess, Gudrun Landgrebe and Nina Hoger.
Since 2008 Florian Uhlig has been Artistic Director of the Johannesburg International Mozart Festival.