William Butt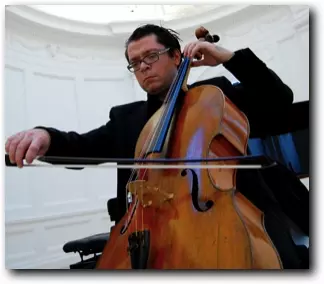 William Butt was born in London. He studied at the Royal Northern College of Music with Moray Welsh and after winning awards and scholarships such as the Royal Society of Arts, Martin Trust and first prize in the Muriel Taylor competition, he furthered his studies with Antonio Lysy in Montreal. He now enjoys a busy career as soloist, chamber musician and is professor of cello at the Royal Irish Academy of Music in Dublin.
On the concert platform he has performed extensively throughout Ireland, the UK, Europe and the Far East. He is a much admired exponent of the solo repertoire, having performed and broadcast numerous works for this medium by contempory composers, as well as the formidable solo sonatas by Kodaly and Ligeti and the suites of Bach and Britten.
In recent seasons he has appeared as soloist with the National Symphony Orchestra of Ireland, the Orchestra of St Cecilia and the Ulster Orchestra for BBC Radio 3.He has worked with conductors such as Alexander Anissimov, Gerhard Markson, Rumon Gamba, Vernon Handley and Barry Douglas.
He has performed and broadcast all the major concerti, in 1997 he gave the Irish premiere of the Walton concerto with the National Symphony Orchestra, in 2001 the Dvorak concerto with the NSO and 2003 a tour of the Schumann concerto with the NSO. As well as a performance of the Protecting Veil by John Tavener with the Hibernian Orchestra he undertook a series at the National Concert Hall in Dublin in 2004 with the orchestra of St Cecilia and Barry Douglas in which he played the Dvorak, Elgar, Shostakovich (No 1), Tchaicovsky Rococo variations, and both Haydn concerti in three concerts over a two week period. He has also performed and broadcast the cello concerto by Victor Herbert with the Ulster orchestra.
William Butt's performances have been broadcast on BBC radio 3 (in recital as well as concerti with the Ulster Orchestra) , BBC radio Ulster, BBC world service, National television in China, CBC (Canada) and RTE radio and television.
In recital he has played for festivals and series such as the Royal Dublin Society, BBC Radio 3 and the Music in Great Irish Houses festival.
His recently released recording of the three suites for solo cello by Benjamin Britten by Warner Music UK (Warner Classics/Apex) received very exciting reviews in the English press including the Observer and the Independant on Sunday in which the recording was awarded five stars. In 2006 he gave a solo concert and Masterclasses in Beijing and in the 2008/09 season, as well as recitals and concerti in the UK, Ireland and Europe he has made a return trip to China to give a highly successful tour of recitals in all the major cities. In the 2008/2009 season he will also undertake a tour performing the Bach suites which will include two concerts in St Johns Smith Square in London. He plays on a fine cello made by Giovanni Grancino in Milan (1690).