Callino Quartet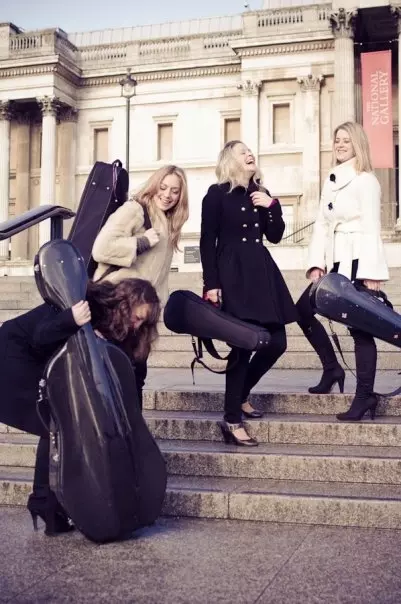 The Callino Quartet is widely considered to be one of the finest young ensembles to have emerged in Europe in recent years. They were formed at the West Cork Chamber Music Festival in 1999 where they immediately felt a deep musical affinity. Since then they have impressed audiences and critics both at home and abroad with their fresh and enthusiastic performances.
Based now in London, the Quartet has cultivated a wide ranging, diverse and challenging repertoire. They have performed and collaborated with many diverse musicians including the Belcea string quartet, double bassist Edgar Meyer, pianist Barry Douglas, singer Patricia Rozario, rock band Arcade Fire, Bell Orchestre and jazz musicians John Abercrombie and Sophie Dunér. They are passionately committed to contemporary music and have worked with composers Edgar Meyer, Peteris Vasks, Aleksandra Vrebalov, Alexander Knaifel, Franghiz Ali-Zadeh, Ian Wilson, Raymond Deane, Ronan Guilfoyle and Kimmo Hakola closely on their works for string quartet. The quartet's first commercially successful CD of the complete quartets by Ian Wilson was followed by a recent Louth Contemporary Music Society recording of music by Arvo P'rt, Valentin Silvestrov, John Tavener and Alexander Knaifel. They have also recorded Ben Dwyer's guitar quintet with the composer which is shortly due for release.
Winners of several international prizes and distinctions, including second prize in the 2008 Tromp International String Quartet in the Netherlands, the development of the quartet has included studies in 2008 with Rainer Schmidt (Hagen Quartet) at the Musik Akademie in Basel, Switzerland. The quartet were also invited to Italy to work with the distinguished Hungarian composer and pedagogue Gyorgy Kurt'g.
In February 2010 they were a resident quartet at the Banff Centre for the Arts in Canada and gave their Carnegie Hall début in March, at the invitation of the Kronos Quartet. They have recently commissioned a new quartet by Kevin Volans with the support of the Arts Council of Ireland and this will be premiered in 2012.
The Callino Quartet take their name from the Irish air ' Cailin cois tSuir a me' which means Girl by the River Suir. This song was the first Irish air to be notated in the late 16th century and became known as the Callino manuscript. It is now on display in Trinity College library, Dublin.