Daniel Tong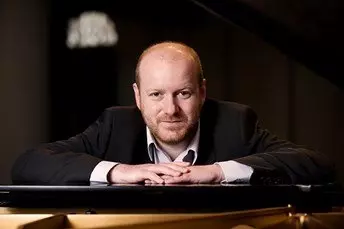 Daniel Tong was born in Cornwall and studied in London, where he now lives.
His musical life is spent performing as soloist and chamber musician, as well as directing two chamber music festivals, teaching and occasionally writing. Outside the UK he has performed in Sweden, France, Belgium and Portugal. He has recently released his first solo CD of works by Schubert for the Quartz label. He also recorded short solo works by Frank Bridge for Dutton as part of a London Bridge Ensemble disc and broadcast Janacek's piano sonata live on BBC Radio 3.
He has appeared at many of the foremost British venues and festivals - Wigmore Hall, South Bank Centre, St Georges Bristol, Birmingham Town Hall, Queen's Hall, Edinburgh as well as the Cheltenham, Aldeburgh and Edinburgh Festivals. He is frequently heard on BBC Radio and his performances have been broadcast throughout Europe and beyond. His project, 'unravelled' in collaboration with musicologist Richard Wigmore, has seen a series of lecture-recital weekends on Haydn, Beethoven, Schubert amd Schumann piano works. It continues throughout 2013 and 2014 in Oxford and Winchester. In autumn 2012 he was invited to curate an Elgar festival at Kings Place in London and he will curate a Dvorak programme there in 2014. This year he has presented lecture-recitals on Beethoven piano sonatas at St Georges.
His London Bridge Ensemble has established itself as an exciting presence on the UK music scene, combining different combinations of strings, piano and voice to form challenging and inspiring programmes. They were resident for several years at the Ponte de Lima Festival in Portugal and have recorded two CDs of works by Frank Bridge for Dutton (the most recent of which was shortlisted for the Gramophone Chamber Music Award) as well as Schumann and Faure for Sonimage. These releases have each been praised and recommended in the press. The ensemble recently gave performances at the Wigmore Hall and Kings Place in London and broadcast a live concert from Champs Hill in Sussex on BBC Radio 3. In 2009 they established their own festival in Winchester.
Daniel has collaborated with the Elias, Navarra, Callino, Barbirolli and Allegri quartets. He has a regular duo with baritone Ivan Ludlow. Each year Daniel plays with an array of wonderful individual artists, often at his own chamber festivals; in Winchester and also in the Wye Valley. Founded in 1999, the Wye Valley Chamber Music Festival attracts many of the most exciting chamber musicians of the younger generation to spend ten days making music in an area of outstanding natural beauty. The Festival has become a well-established and treasured event in the region's cultural life, also gaining national attention for its creative spirit and artistic vibrancy.
For 2015 and beyond, Daniel is teaming up with violinist, Krysia Osostowicz for Beethoven Plus! They will present the ten sonatas by Beethoven for violin and piano alongside ten new pieces, each written by a different composer as their reaction to one of the Beethoven works. The project is expanding quickly, but the series is already set to take place at St Georges Bristol and Kings Place in London.
Daniel teaches at the Centre for Young Musicians in Westminster, St Paul's Girls' School and privately. He has given classes for Royal Welsh College of Music and Drama, Junior Guildhall, the Gothenburg Conservatoire and Oxford University. He studied piano with Hilary Coates at school and with Irina Zaritskaya and Paul Roberts at music college. He then went on to work with Grorgy Sebok, Andras Keller and Ferenc Rados at IMS Prussia Cove.
---
'an extraordinarily sympathetic Schubertian with his crystalline sonority and wonderful tiny rubatos that release avenues of expression even in the simpler moments. No surprise that his all-Schubert disc on the Quartz label contains equally notable playing.'
- Gramophone
"With its legacy of Curzon, Hess, and Gerald Moore, and the expatriate presence of Perahia and Brendel, England would seem to be fertile ground for Schubert piano playing of the highest order. So it is, with Imogen Cooper, Paul Lewis, and another English pianist, Daniel Tong.
Tong's performances of Schubert's penultimate sonata and the Moments musicaux, recorded with flattering sound by Quartz Music and accompanied by Richard Wigmore's knowing booklet notes, achieve an unaffected feeling that results from interpretive decisions that are generally at one with the music's natural flow and fluctuating moods. Tong's affinity for Schubert has a depth that puts these performances in the front rank."
- Fanfare Magazine
"Perhaps the first thing that strikes one on hearing this release is the quality of the pianism. Not its dazzling virtuosity (with the sole possible exception of the Wanderer Fantasy, Schubert never gives house room to the show-off) but the sheer full-blooded refinement of the playing. In an age when pianistic elegance and colouristic resource would seem to be in decline ' certainly at international piano competitions ' it's always a blessed relief to hear an artist with Daniel Tong's self-evident love and understanding of the instrument. At no time is there a hint of stridency, yet there is never any want of size."
- BBC Music Magazine