Castalian Quartet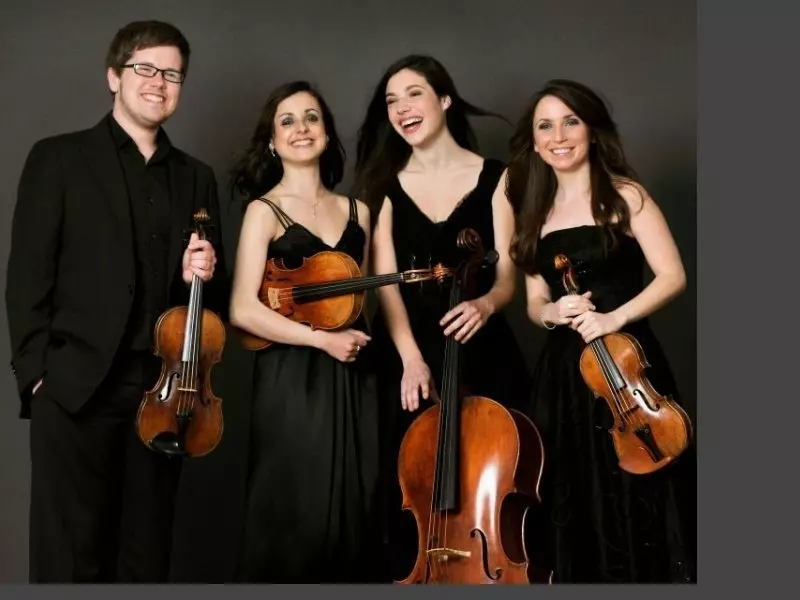 Sadie Fields violin 1 Daniel Roberts violin 2
Charlotte Bonneton viola Rebecca Hermann cello
Winner of the 2011 Royal Overseas League Elias Fawcett Award for an outstanding chamber ensemble, the Castalian String Quartet is rapidly gaining a reputation at festivals and concert halls in the UK and abroad for its "phenomenal impact on audiences".
As holder of awards from the Countess of Munster Trust, the Tunnel Trust, the Royal Philharmonic Society, Lake District Summer Music, St. Peter's Eaton Square and the Kirckman Concert Society, the quartet performs throughout the UK. Last season saw its debut recital at the Wigmore Hall, as well as appearances at the Purcell Room and Kings Place, where they performed alongside the Chilingirian Quartet. The Castalian Quartet was also invited to represent the UK in a British Council Tour of China, which included performances, masterclasses and interviews for Chinese Television. It has also performed in Sweden, France and Italy.
In 2012 the quartet gave its debut broadcasts on the German radio station NDR and on BBC Radio 3, from its critically acclaimed Cheltenham Festival recital of music by Giles Swayne, Michael Nyman and Hugh Wood. Its Edinburgh Festival debut at the Royal Overseas League House followed soon after and was hailed by the Strad Magazine for its "richly Romantic intensity, energy and passion".
The quartet has worked closely with Thomas Brandis, Levon Chilingirian and Oliver Wille, its mentor at the Hannover University of Music, Dance and Theatre.