Sacconi Quartet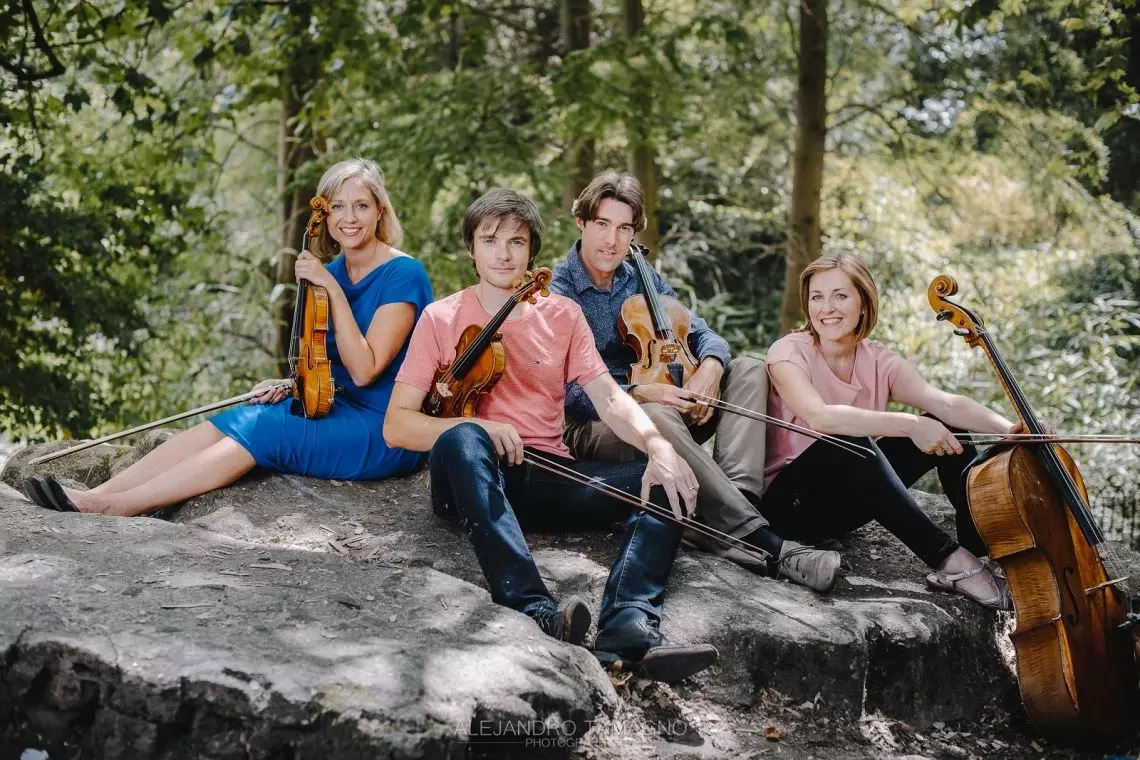 Ben Hancox violin 1 Hannah Dawson violin 2
Robin Ashwell viola Cara Berridge cello
The Sacconi Quartet is recognised for its unanimous and compelling ensemble, performing with style and commitment and consistently communicating with a fresh and imaginative approach. Formed in 2001, its four founder members continue to demonstrate a shared passion for string quartet repertoire, infectiously reaching out to audiences with their energy and enthusiasm. Over the past decade they have enjoyed a highly successful international career, performing regularly throughout Europe, at London's major venues, in recordings and on radio broadcasts. The Sacconi is Quartet in Association at the Royal College of Music and Quartet in Residence at the Bristol Old Vic Theatre.
The Sacconi won First Prize at the Trondheim International String Quartet Competition and Second Prize, the Sidney Griller Award and the Esterhazy Prize at the 2006 London International String Quartet Competition. They also won the Kurtág Prize at the 2005 Bordeaux International String Quartet Competition and First Prize in the Royal Over-Seas League Chamber Music Competition. In 2006 they were also selected for representation by Young Concert Artists Trust (YCAT), awarded an Angel Award by The Herald newspaper for outstanding performances in the Edinburgh Festival and nominated for a Royal Philharmonic Society Award.
---
"A beautiful blend of sound ... highly engaging"
- The Times
"A quartet of genuine substance"
- The Daily Telegraph
"The festival sensation, the young Sacconi Quartet completely bowled over a packed audience."
"The chemistry between these four young players is tangible and magical."
- The Scotsman
"An exceptional ensemble ... a unanimous sense of musical breath and a meticulous attention to detail."
- Musical Opinion
"Great power and sweetness ... intimate closeness."
- The Spectator
"Enviable technical prowess"
- The Strad