Idomeneo Quartet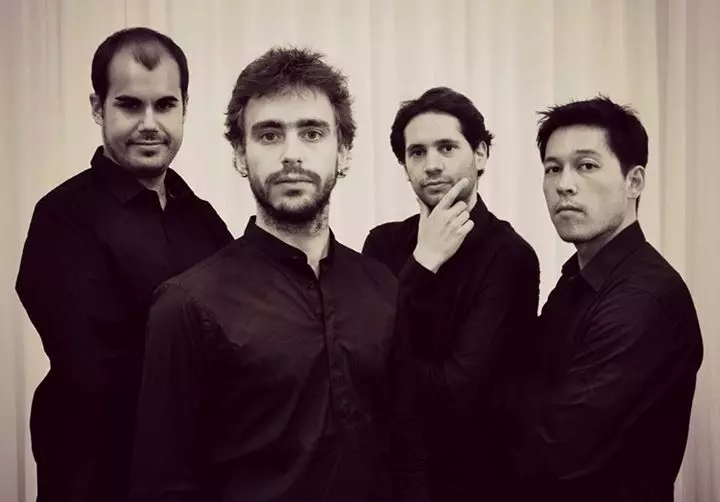 Mark Derudder violin 1 Viktor Stenhjem violin 2
Miguel Angel Rodriguez viola Pau Codina Masferrer cello
Formed in 2009, the Idomeneo Quartet currently holds the Chamber Music Fellowship at the Guildhall School of Music and Drama. Already regarded as one of the most exciting young quartets on the music scene, the Idomeneos are studying under the tutelage of the Vogler Quartet in Stuttgart, Rainer Schmidt in Basel and Alasdair Tait in London.
The Idomeneo Quartet have already held recitals in numerous concert venues all over Europe ( Germany, the Netherlands, France, Italy, Austria, and Belgium) and extensively in the UK; this included concerts in the Barbican and Festival Hall in London.
At the 54th Jeunesse Musicale course in Weikersheim, Germany (with Heime Muller and the Vogler Quartet) they were awarded the prize of 'the most convincing newcomer ensemble' by the Friends of the Jeunesse Musicale in Germany; their final concert was broadcast live on German radio to critical acclaim. The Quartet also won the Tunnell Trust Award, with a concert tour of Scotland being part of the award. More recently, they have been selected as young artists for the Park Lane Group.
The Idomeneo Quartet have been privileged to receive masterclasses from, amongst others, Bernard Greenhouse, Gary Hoffmann, the Belcea Quartet and Günter Pichler (Alban Berg Quartet). They performed at the White Crow Music Festival in the Netherlands.
Future commitments include concerts at festivals such as the King's Lynn Festival and Heidelberger Frühling Internationales Festival in Germany where they will perform Schoenberg's Verklärte Nacht with members of the Alban Berg Quartet. During the summer they will be Quartet in Residence at the Sainte-Mère Festival in France and they have been booked for a concert tour of Brazil later in the year.
The Idomeneo Quartet is looking forward to its debuts at St Martin-in-the-Fields, Purcell Room and the Wigmore Hall, courtesy of the Park Lane Group.