Kathryn Rudge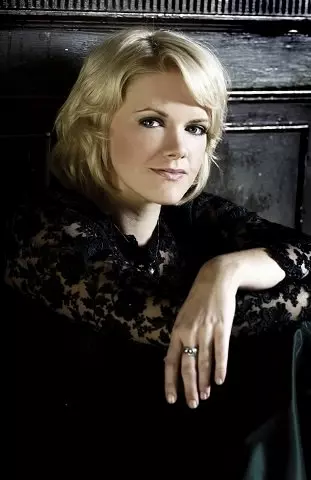 "... Her cleanly produced tone, supple musical phrasing and sensitive colouring of words combine with a vividly attractive stage personality to make something special" The Telegraph, 2013
Liverpool-born mezzo-soprano Kathryn featured as The Times Rising Star of Classical Music 2012. She made her professional opera debut to critical acclaim with English National Opera as Cherubino (Le Nozze di Figaro) in a production directed by Fiona Shaw and has since performed with Opera North as Sesto (Giulio Cesare), Annio (La Clemenza di Tito) and Hermia (A Midsummer Night's Dream). In 2012 she repeated the role of Cherubino (Le Nozze di Figaro) with Glyndebourne Touring Opera. She has also performed in the title role of Carmen in concert with conductor Charles Hazlewood at Glastonbury Abbey.
Kathryn has performed in recitals at venues throughout the UK including Wigmore Hall, The Sage (Gateshead), Leighton House and at the Brighton, Chester, Lake District, City of London and Cheltenham festivals (Broadcast by BBC Radio 3).
Concert appearances include performances with the Royal Liverpool Philharmonic Orchestra (RLPO), Beethoven's Ninth Symphony at the Royal Festival Hall, a performance with Sir Willard White at Bridgewater Hall and a UK tour with American tenor Noah Stewart. Other engagements have included 'The Armed Man' tour with conductor Karl Jenkins and Bach's Christmas Oratorio with the Orchestra of Opera North. Kathryn performed with conductor Karl Jenkins in his 70th birthday celebrations at the Royal Albert Hall and with the RLPO in the world premier of Michael Nyman's Hillsborough Memorial Symphony.
Kathryn studied at the Royal Northern College of Music and has been the recipient of numerous prizes and awards including the Joaninha Trust Award, BBC Fame Academy Bursary, Joyce & Michael Kennedy Strauss Prize, Kathleen Ferrier Bursary, Susan Chilcott and a Yamaha Music Award. Kathryn is also a Samling Scholar. Roles performed during her studies included Bizet's Carmen, Erika (Vanessa), Helena (La Belle Hélène), Cherubino (Le Nozze di Figaro) and Olga (Eugene Onegin).